We were privileged to have Joe guide us for seven days on what was for one of us our first, for the other our second (after many years) trip to Israel. We could not have asked for a more thoughtful, knowledgeable, kind, and energetic guide. Joe is a gifted teacher and has a depth of knowledge ranging from history to geography to geopolitics to religion, and he joyously shares his knowledge with clarity, sensitivity, and humor. He clearly loves and cares deeply about Israel while maintaining a nuanced perspective on her challenges. He seemed to relish answering our many questions. In addition, one of us is facing serious health issues, and we were especially grateful for the grace with which he shaped our visit both to our interests and what we could handle. He is a real mensch and was instrumental in making our visit to Israel meaningful and wonderful. Todah rabah, Joe!

Wendy and David, New Jersey, USA
With all of the political, historical and religious significance of the area impacting every moment of your stay in Israel you will want, desire and need a guide that understands the landscape, has a great sense of humor and can communicate with everyone in your group from a 9 year old all the way to a 75 year old. Joe Freedman is the reason that my family's trip to Israel was an incredible experience. When people ask me what my favorite part was during my trip to Israel, I do not identify a place, or a time or a day, I say it was Joe Freedman, he made every minute of the trip my favorite minute!

Fondly, Chris Saso. San Jose, CA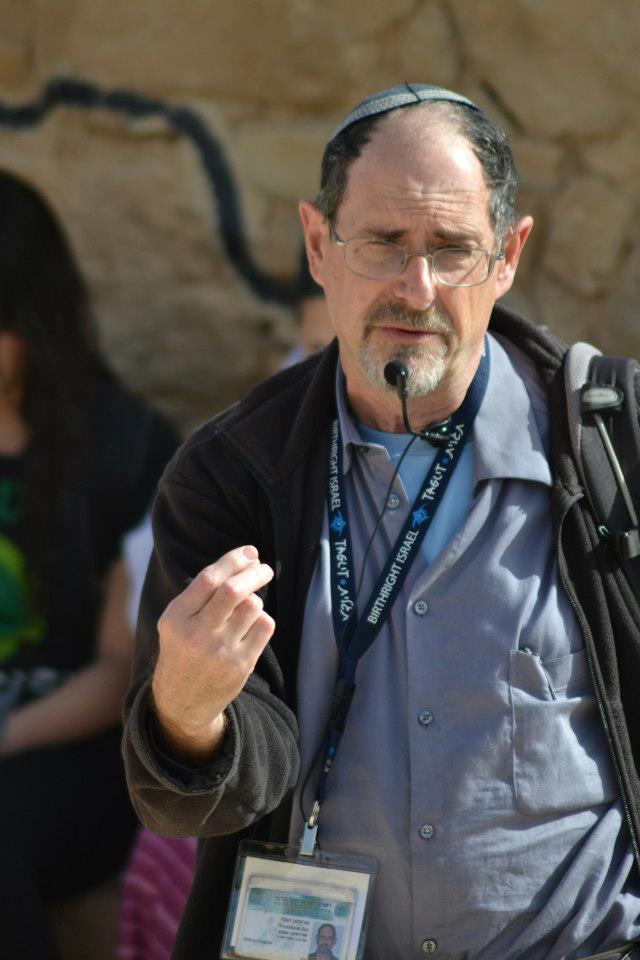 Thank you for being our tour guide, historian, educator, navigator, comedian, friend, rabbi and so much more ! You have changed the way we all experienced the holy land. You helped us navigate through the country, set a positive tone and ease for the trip adventures, and we experienced with you things we would not have discovered otherwise. This trip was extra special and one of a lifetime that we will never ever forget!

Eva Sprintz, San Jose, CA (Bar and Bat Mitzva trip)
Joe is a remarkable Jewish educator. He has all of the skills that we believe are necessary to be a good family educator, including his outstanding knowledge of Judaic content, his ability to engage both adults and children meaningfully, his knowledge of family dynamics, his zaniness and sense of humor, his warmth and approachability, and his passion, zeal and love of Israel, its people and values…It was true family education at its best–mutual, engaging, fun and transformative. It allowed and empowered the parents who brought children an opportunity to not only be Jewish learners but act as educators for their children.

Rabbi Ron and Leora Isaacs, Bridgewater, NJ
What a wonderful leader and teacher you have been to our Kehilla. We have been blessed to see your passion in action: your stories, your wisdom, your wit, your tears and your smile have made this trip unforgettable!

Bonnie Rosenfeld, Agudath Israel, Caldwell, NJ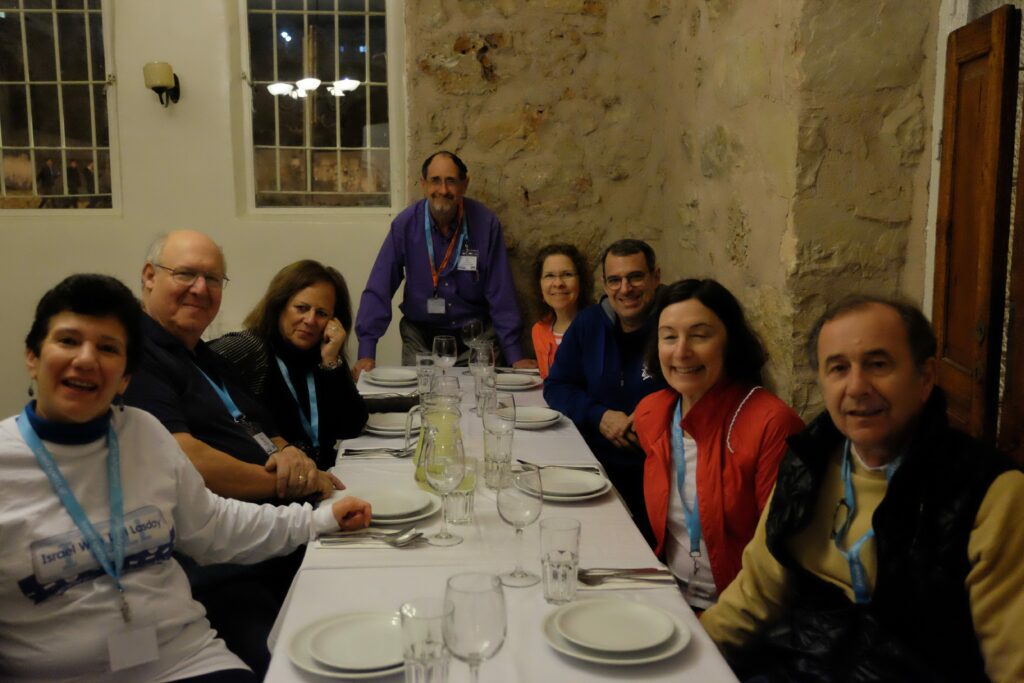 We are grateful to you for helping to make our recent trip to Israel such a wonderful experience. Your ability to match the itinerary to the interests and knowledge level of those you are guiding gave us experiences and perspective that we had not had on previous trips. As an educator, you presented material to us in a clear and easy to understand manner. Your mastery of information about sites visited combined with your knowledge of Jewish sources added a great deal to our experience. Throughout the time we spent together, your love for Israel, Judaism, and for all Jews across the religious spectrum was evident. We will gladly recommend you to both our Jewish and non-Jewish friends who want to make their visit to Israel an extraordinary experience.

Rabbi Irv and Jane Beigel (Syracuse, NY)
Joe, We've been back a week now, and as you said we would, are still processing all that we saw, did and heard, but we would be remiss if we didn't let you know just how special the trip was to us, made more so by your wealth of knowledge, your stories and your passion for what you were sharing with us. It was much more, as you hoped, than just a sightseeing trip, and the difference was you. Looking at our pictures triggers memories of the trip, and telling our children about some of the things we did and saw helps us re-live those adventures. Again, thank you for everything you did.

Robin and Bob Elkinson, Metuchen, NJ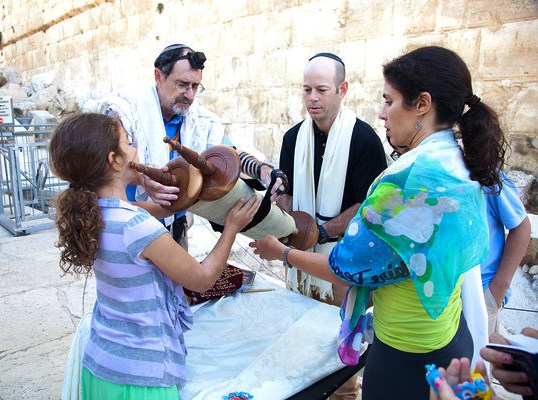 Thank you again for taking us on the tour [in the Old City of Jerusalem]. It was really one of the most informative tours that I have ever been on. I was amazed that I had spent a week in Jerusalem and almost everything that you shared with me was new.

Ben Katchman (Don Katchman and Stephanie)
Joe…We wanted to thank you for making our Israel trip and experience truly amazing. All of us have marveled at your never ending depth of knowledge, how you can easily relate to three different generations of travelers, all at once, and your clear dedication to the people, land and history of Israel that came through in every aspect of your guidance. Thank you again for an incredible trip – you were "sababa" on top of "haval al haz'man!"

Berland-Moser Bnai Mitzvah Trip
Thank you again for two extremely enjoyable and informative days of touring….Having been on many tours of Israel and Jerusalem in the last eight years, I particularly loved the way you combined so much information (including the great maps — and you didn't even know that Dan was a HUGE map person!) with such a passion for the city. Your choice of poems and psalms to give context to what we were seeing, and to allow us to reflect on the deeper meaning of what we were seeing, was especially meaningful to me.

Barbara Crook, N. American Representative of Palestinian Media Watch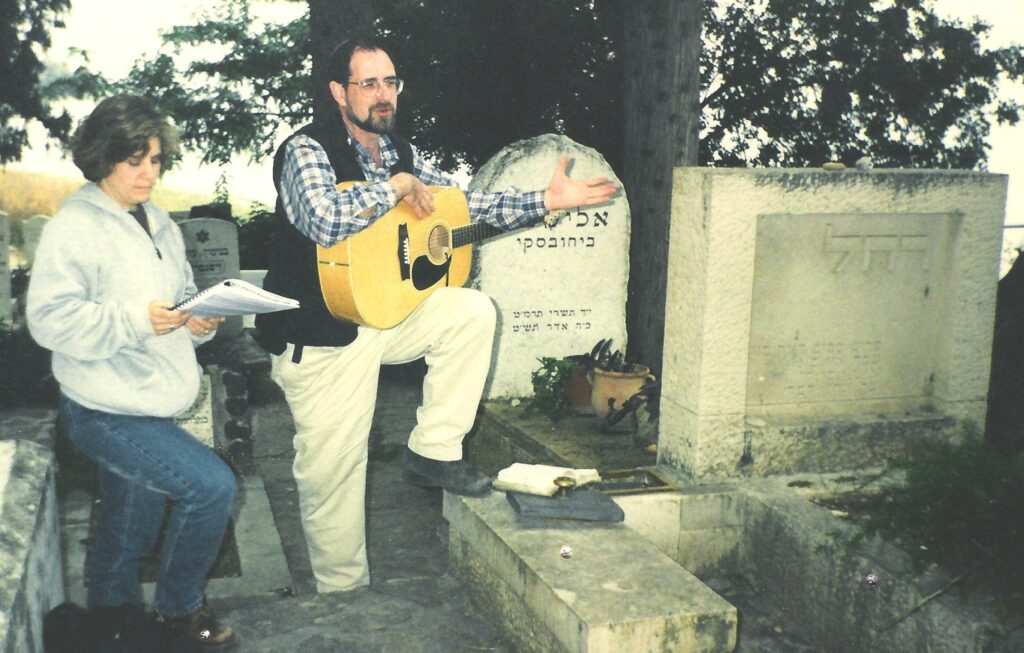 Our guide, Joe, is an experienced, organized, interesting and warm professional who made a sincere effort to get to know our group of family and friends, and make our tour fun and educational. He planned the itinerary down to minute, in meticulous detail. Since our tour was private, he worked with my sister-in-law for over a year to fine-tune the itinerary. During the week, he also coordinated closely with Moshe, our seasoned bus driver. Our tour itinerary was ambitious, covering hundreds of miles in Israel and spanning many time periods of Israeli history. For every site/sight we visited, Joe explained its cultural, geographical, historical, linguistic and religious significance. Our group agreed that Joe was a superb guide!

–Jennifer Aboaf , Denver, CO
Joe, Thank you!
Susan has been talking about taking a trip like this to Israel for several years. She wanted to take it when our three oldest grandchildren were in their Bar/Bat Mitzvah years. She has had great expectations about this trip for years.
The trip exceeded all of our expectations and you deserve a lot of the credit for that. We have been fortunate to have been able to travel to many places and to have had many guides and so I think we appreciate how important a guide is to a trip more than most travelers. You have been the best. To be able to make the trip special for those of us who have been to Israel several times as well as to the first time young visitors was not easy. To make a trip really special for 70 some grandparents as well as to 8 and 10 year olds and all ages in between was also tricky.
I know that this trip will change the lives of all the children as well as the adults. It opened our eyes to what it can be like to travel with an extended family, see special places, learn about Israel, learn about our religion and enjoy every minute. This has got to have long term as well as short term benefits for all of us.
You have changed the lives of some grateful people….

Lonnie Edelheit, Seattle, WA, December-January, 2013-14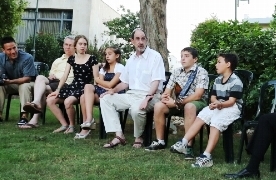 Joe is an absolutely fantastic guide. The itinerary he planned (with our input) was superb. Our group consisted of several generations of two families, and Joe was equally adept with the whole crowd – from 8 to (almost) 80. He is extremely knowledgeable, but not afraid to admit it on the rare occasions when he doesn't know the answer. Always ready with a good story or a bad pun. Just a pleasure to be around. With Joe, you'll get the most out of your trip.

Michael Sherman, Washington, DC
Joe led my wife and I on an extended tour of Israel. We went to Tel Aviv, Caesaria, Safed, the Golan Heights, Jerusalem, and down into the Negev. Throughout the entire time, Joe was FUN and EDUCATIONAL. He had so many ideas on how to make the trip better but always made sure our priorities were #1. Joe brought the huge cultural and political history of Israel into perspective with anecdotes and facts that helped connect us to our surroundings. We truly enjoyed our time with Joe and appreciated him giving us our alone time, too. During our tour, it was clear that Joe is highly respected and well-known, and this worked to our advantage many times. The trip would never have been as good if it weren't for Joe's kindness, friendliness, and overall warmth.

Steven Greenspan and Rona Sue London
Joe,

Your wonderful guiding of our multifaith group was wonderful. I as a Catholic priest found the tour one filled with faith, fun, learning and prayer. I very much appreciated how you respected the faith of each of our tour members. Your help to me and Fr. Don was wonderful, telling us about the Christian Holy Places and easing our prayer and enjoyment. I very much appreciated your showing us the Jewish sites and how Israel is such a spiritual yet diverse country. I'd love to have you guide a group of pilgrims from my parish!

Thanks,

Fr. Robert Hyde, St. Margaret's Church, Syracuse, New York
Exceeded our expectations in every respect. Joe was WONDERFUL, we saw far more on the tour then we could ever have seen on our own. Joe the educator, did so many little things and additions to make sure we got a good learning experience — learning for everyone in our family from those who are living in Israel to those who never have been to Israel before!

Mitchell Benus
"Without reservation" is how I will recommend you, Joe! Your knowledge of just how a particular site is significant to Christian, Jew and occasionally, Muslim, is matched only by your obvious respect for your and others' faith traditions.

Your humor and quick focus on questions along with your flexibility in adjusting schedules to changing circumstances enabled us to see and experience more than we would have thought possible. I would recommend that anyone contemplating traveling with you be very upfront about what they want to see and what they would like, "in the best of all possible worlds" to see and leave it up to you to find a way. Good memories and fond wishes for your continued health and happiness.

Rev. Virginia K. Lawson, PhD
We just returned from spending two weeks in Israel with Joe Freedman as our guide – virtually 24/7. Our expectations were high – but due to Joe, the trip greatly exceeded our high expectations. Advance planning for our trip couldn't have been any easier – Joe promptly responded by email to all questions and his recommendations were excellent as to places, hotels and amounts of time to visit. Once we arrived in Israel, Joe was our constant leader and companion, showed amazing flexibility, and was tireless in making sure that we had a great time. Joe was a great source of ancient and modern history, religious and biblical references and current politics. If all of the foregoing wasn't enough, Joe gives you the bonus of expressing himself as an American born educator who can find in almost every situation a humorous pun or story – just so the trip doesn't become too serious. In short, we would recommend visiting Israel with a guide – and that Joe be your guide.

Elizabeth and Jeff Grad, Honolulu
I don't know what I could possibly add to all of the comments posted as every word is absolutely true. We came with friends and we all agreed that Joe made our trip to Israel unforgettable. The man is just an encyclopedia of knowledge. He becomes friend and family. You can't help but love the guy. He's pun, I mean fun to be with and a real mensch with a kind heart. He loves what he does and does it with all he's got. He goes out of his way to do whatever he can for you even after your tour is over. I will recommend Joe to anyone I know that's coming to Israel and the next time we come back,hiring Joe is a no brainer.

Roy and Vonnie Weiner, Delray Beach FL.
Joe Freedman is a wonderful tour guide because he knows how to listen to his clients' ideas and interests and then mold them into a trip that is enjoyable for all the participants. He combined our children's desire to hike in nature in the Negev with our interest in history and archaeology. Joe custom designed a Negev trek for us of Machtesh Katan, Gadol and Ramon. He incorporated archeological sites and historical sites along the way. Joe's knowledge of history, the bible and even geology greatly enhanced our experience. His sense of humor added to the fun of the trip and his carefully selected psukim from the chumash and contemporary poems augmented the history in certain places and the raw beauty in other places. Joe also designed the itinerary so that its many elements could be rearranged, if time required, all without losing a step. We could not have asked for a better tour guide.

Cathy and Glenn Shepard, Teaneck, N.J.
Having just returned from an amazing Bar Mitzvah-driven trip with Joe Freedman from start to finish, we can wholeheartedly agree with everything positive everyone before us has said about Joe. He was so many great things all rolled into one incredible person. Joe was kind, sensitive, 100% dependable, punny and funny, sweet, very flexible, even-tempered, proudly Jewish and excited about Israel and it's tremendous history. He treated the ten of us (with ages ranging from three years old to sixties) with patience, aplomb, and accommodation. We learned, we laughed, we ate lots of ice cream, and we came home dying to go back as soon as possible and explore more of Israel with Joe.

Ira and Leah Zaretsky
We engaged Joe for our multi-generational family tour of Israel. He was responsive to our requests as we customized our itinerary prior to the trip and was extremely flexible during the trip. His remarkable knowledge and sense of humor were instrumental in making the trip enjoyable and educational for everyone from the 7 year old to the 70 year old. No matter what your trip objectives are, Joe is able and willing to design a tour that far exceeds all expectations. That's what he did for us! We will enthusiastically engage Joe for future Israel tours.

Robbye Frank, St. Louis, MO
My husband & I decided about a month before our trip to Israel that a guide in Jerusalem would probably be a good idea. I truly believe the Lord sent us straight to Joe. We could not have chosen a better guide. Come to find out, he even leads some of the Western Wall Tunnel Tours – as he did for us the first morning of our 2 1/2 days with him.

I cannot emphasize the value that having a local guide added to our visit. Joe was an excellent communicator – in advance of the trip, and also throughout our stay in country. He helped us put together a great itinerary as believers in Jesus – we were able to see & learn about important sites from both the Hebrew Scriptures & the New Testament. The Western Wall, Archaeological Park, City of David, Garden Tomb, & Mt. of Olives were must see! Not to mention the Israel Museum & Yad Vashem…. We had such fabulous weather that Joe nearly walked the legs right off of us.

Joe has an obvious concern for those he is guiding. Taking extra time to point out a location for where we were scheduled to see a show one evening, getting us a taxi home, & letting us know that should we run into any issue to just give him a call. It's always good to know you have a friend when you're in a foreign country.

If you're looking for a knowledgeable guide who is fun to be around, you can stop now! Joe is your guide.

Thanks again, Joe! Hope to be contacting you again in a few years when we bring our family.

Josh & Angie Nelson, Michigan, USA
Joe,
I just wanted to say thank you for making our trip the best it could be. With scheduling conflicts due to the weather, and how you handled that, switching the itinerary to make sure we were able to do everything on the schedule and not have weather interfere was perfect. How much care and compassion you had on our group was overwhelming. It was very evident that you cared for each and every person. I truly felt like family by the time the week was over. Very personal with everyone (knowing all of our names by the first day and what each of us would like to do) and made everyone know that you cared for them. It wasn't just a group that you were leading but each and every individual. Thank you so much for making our trip to Israel the best it possibly could be. My prayers for you and your family.

Your friend,
Jeffrey Weaver
I just wanted to thank you again for everything you did for us. As a new convert I am still learning and growing spiritually. Your knowledge has helped me to get a better understanding of the word word of God and has helped me grow in my walk with God.

I've been praying for you and your family and will continue to pray. Please come to visit us at Solid Rock Baptist Church whenever you're in the USA.

Madeline Rosario
Joe: Thank you for the tremendous job you did guiding our group from Valley Forge Baptist in Pennsylvania. You did a fabulous job. Your knowledge and sense of humor made our pilgrimage very enjoyable. If you ever make it to Philadelphia, please let us know. We would love to see you again.

God Bless,
Dave D.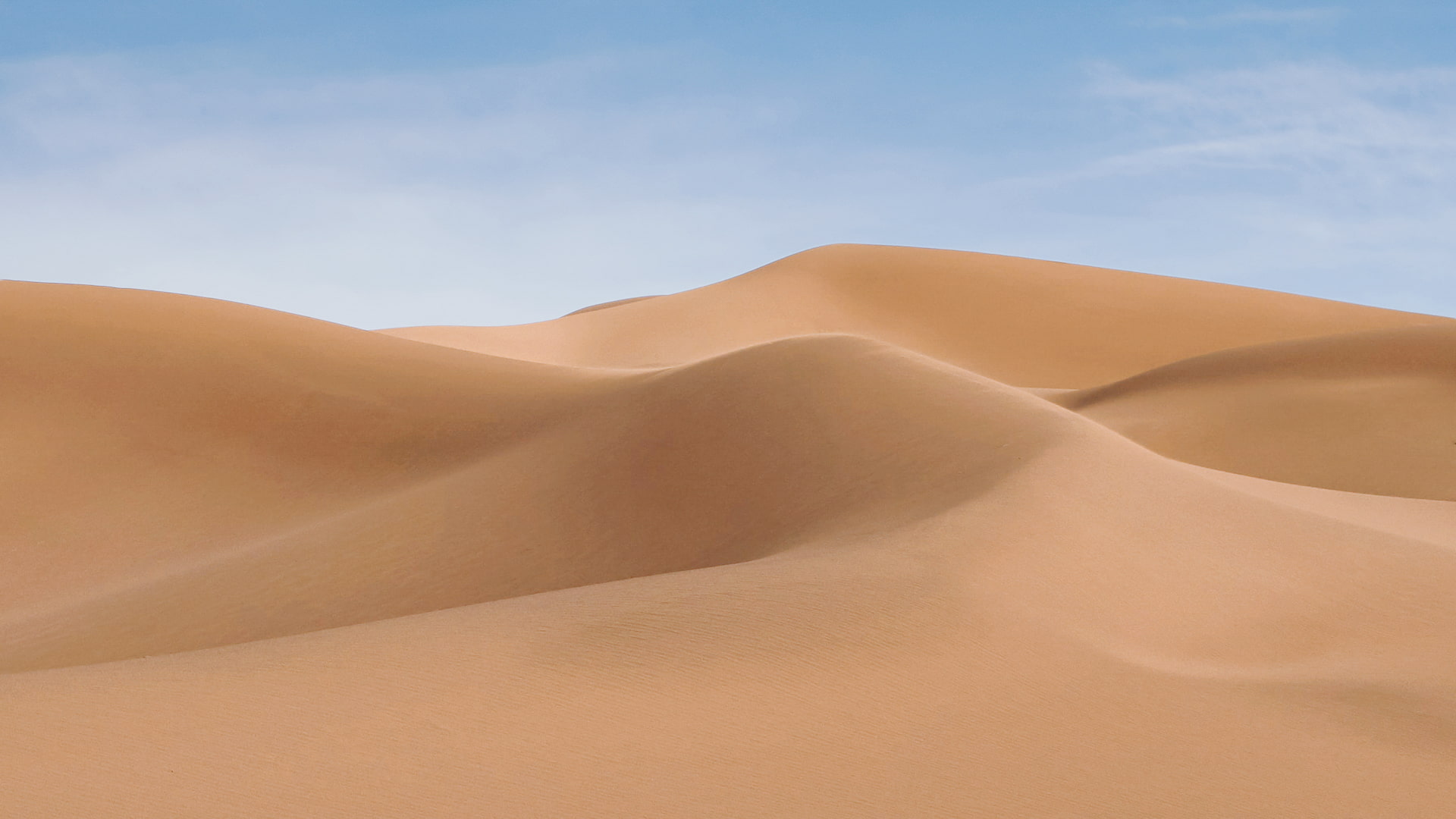 Tours and tour packages made just for you